axes
Arguments:
x0,x1,y0,y1,_font_height>=0,_opacity,_pattern,_color1,...
Description:
Draw xy-axes on selected images.
pattern
is an hexadecimal number starting with
0x
which can be omitted
even if a color is specified.
To draw only one x-axis at row Y, set both
y0
and
y1
to Y.
To draw only one y-axis at column X, set both
x0
and
x1
to X.
Default values:
font_height=14, opacity=1, pattern=(undefined) and color1=0.
Example of use:
$ gmic 400,400,1,3,255 axes -1,1,1,-1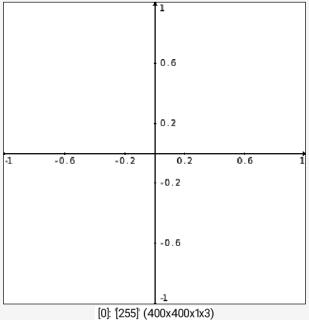 G'MIC is an open-source software distributed under the CeCILL free software licenses (LGPL-like and/or
GPL-compatible). Copyrights (C) Since July 2008, David Tschumperlé - GREYC UMR CNRS 6072, Image Team.